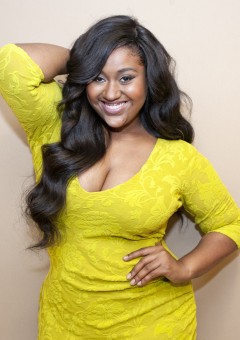 Author: Ashley E.
I got so excited when I heard Jazmine Sullivan was dropping a new album at the beginning of the year. The Philly native took a 5 year hiatus from the music scene and her presence was definitely missed. There aren't too many female artists in the music industry right now with a unique and distinct sound like Ms. Sullivan. During an interview with Hot 97 Jazmine described how her label Jive Records dropped her when she was 18 years old because they couldn't figure out where her sound would fit in the industry; now it seems as if people are longing for that familiar sound.
The singer admitted that her absence was largely in part due to her being involved in an abusive relationship that brought her to a very low point in her life. It is said that an artist sometimes produces their best work when they've experienced pain and Jazmine showcased a lot of that pain in her latest album Reality Show.
She described her album in a recent interview:
"I feel like with this particular album I was really done with trying to impress, I just wanted to do me."
Overall I liked the new album. It was different but familiar at the same time. She did a lot of storytelling and played with various sounds, and I feel like she challenged her vocal ability. I remember instantly loving just about every song on her debut album Fearless when it dropped back in 2008. Reality Show was a bit different; there were songs like "Dumb" and "Forever Don't Last" that I liked immediately, but a lot of the other songs had to marinate in my ears before I could really appreciate and feel what she was singing.
In her track "Mascara" she sings about the stereotypical video vixen, Instagram model and reality show female who has to keep up this certain image and appearance in order to maintain a certain lifestyle. She discussed in her interview with Hot 97 how overwhelming and exhausting that could be to have to "stay on" at all times.
I absolutely loved "Forever Don't Last" because you can literally hear the pain behind her words in the track. So many people can relate to giving so much of yourself in a relationship only for it to end leaving you drained and broken.
"Mona Lisa" is a track that has become one of my favorites off the album. I love it because she talks about dealing with insecurities and so many women deal with them, even the ones that seem to be the most confident. It's about looking in the mirror, accepting your flaws and embracing and loving what you see. You have to love what you see when you look in the mirror before anyone else does because you will find yourself seeking validation from others in order to love yourself and the way that you look. In the interview with Hot 97 Jazmine discussed her body image and how she knows she doesn't reflect the typical standard of beauty. She said she wants to represent for the regular women.
Jaz kicks off her Reality Show tour next month. I'm so glad she is back and I hope she is here to stay for a while.
Jazmine Sullivan Performs Forever Don't Last as part of the Dreammakers Series in New York City