The last television series that centered around HBCU college life was the show "A Different World" which was popular back in the late 80s and early 90s.
Many people are referring to the the upcoming collegiate series "The Quad" as a modern day version of A Different World. The show will focus on the experiences of several students attending fictional school Georgia A&M University. Actress Anika Noni Rose will portray newly hired university president Dr. Eva Fletcher who is hit with the tough task of bringing the university out of financial difficulty.
From looking at the trailer the series seems to be a mixture of  the films Stomp The Yard and Drumline. The show will touch on topics like band hazing and college student promiscuity.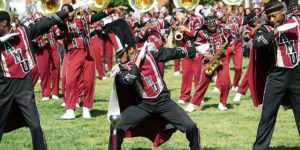 The cast includes Jasmine Guy and Ruben Santiago-Hudson. It also features upcoming actors Zoe Renee, Jazz Raycole and Peyton Alex Smith. The series was created by Felicia D. Henderson (Soul Food) and Charles Holland (New York Undercover). Director Will Packer will also serve as one of the co-executive producers for the show.
The Quad will premiere January 31, 2017 on BET.
Check out the trailer and share your thoughts below!