Millennial women are proving that we can have it all! We are climbing corporate ladders, earning multiple degrees, becoming entrepreneurs, and starting families all while effortlessly looking fly!
I met Dr. Sheria Rowe at the Blogging Beauties Tour in Charlotte during CIAA weekend; she was promoting her book "White Collar, Black Pumps".  The book focuses on two educated, successful, African American women who are trying to balance their personal lives, careers, and families while also facing workforce discrimination barriers.
After reading the book I wanted to find out more about Sheria so I visited her website then reached out to her for an interview. I was impressed to know that not only was she a first time author, but she was also a college professor and a serial entrepreneur.  In our interview she discusses being the youngest person to complete her PHD program, being a first time author, and she also gives advice to aspiring authors and entrepreneurs.
Read the interview below:
Amy Nicole: In 2014 you completed a rigorous PHD program in Business Administration. How was the experience like being one of the youngest people to complete the program? Have you always had a passion for pursuing  higher education?
Sheria: Rigorous is a great word to use! The overall experience was fulfilling. I always wanted to earn my Doctorate degree at some point, but didn't know I was going to do it at such a young age. I was 28 when I completed my degree. I was the youngest in the program, but I didn't let that make me feel like I didn't belong. There were several times I would be at residency and it was always someone older trying to talk over me during discussions or make comments about my age and being in the program.  My passion for higher education started when I was 17. It does something to you when people doubt you or don't believe you have what it takes. My passion is what kept me up all night studying, writing papers, researching, and ultimately finishing my degree in 3 ½ years.
Amy Nicole: In addition to being an entrepreneur you are also a professor? How are you able to balance your time between the two roles?
Sheria: I've always been really good with time management. I learned this trait while working in corporate full time in addition to being a full-time student. I really learned the value of time. As a professor, my schedule is flexible. One day, I may have classes in the morning and another day in the afternoon. I work my conference calls and meetings in with my class schedule. When I leave the university, I come home and work more on DRowe Enterprise things.
Amy Nicole: What are the ups and downs to being an entrepreneur?
Sheria: I'll start with a down…patience. Being an entrepreneur is not an easy task and does not happen overnight. Sometimes I have crazy creative ideas in my head, but know it will take time to implement to its full capacity. When I have these ideas, I'll typically call my mom or dad (whoever is available first) and tell them my thoughts and get their advice. For an up, I would have to say freedom. I love the freedom in running my own business. The freedom to be as creative as I would like to be. I started my career in corporate accounting and if anyone knows anything about the accounting industry, your job is pretty much the same on a day-to-day basis. It's not exactly an industry where you can be creative.
Amy Nicole: You are currently on tour promoting your first book "White Collar Black Pumps". How has the experience been? What inspired you to write a book?
Sheria: The experience have been wonderful. I have met and connected with a lot of different people. It amazes me to talk to complete strangers and they tell me that they have read my book and loved it! It's truly a blessing.  My inspiration in writing the book came from my passion. As I was writing, I continuously said to myself "someone other than myself have dealt with the issues I discuss in the book." I've read a lot of self-help books for women in corporate America but haven't really seen one in the form of a novel. I wanted to take a different approach in a way that was more relatable.
Amy Nicole: The book focuses on two successful African American women that are friends who face barriers due to workplace discrimination and the glass ceiling effect. Is the book based off of any of your personal experiences?
Sheria: Yes. I was able to take my own challenges and barriers that I experienced in corporate America and place it in writing.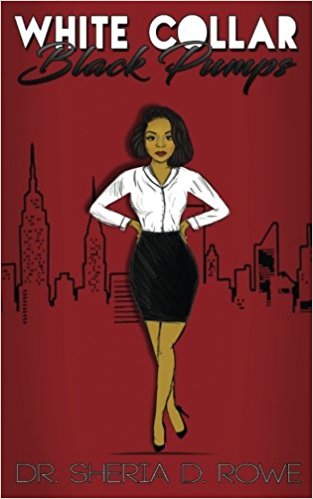 Amy Nicole: What do you want readers to take away from the book?
Sheria: Be encouraged. I want readers to know that they are not the only ones dealing with the issues associated with glass ceiling. The characters and their challenges are different, but ultimately, they are barriers and challenges. The characters are very relatable, which will help the readers feel more "in-tune".
Amy Nicole: Where can your book be purchased?
Sheria: White Collar, Black Pumps is available on my website: www.sheriarowe.com. It's also available on Amazon.
Amy Nicole: What advice would you give to aspiring authors and entrepreneurs?
Sheria: "Don't let anyone tell you what you cannot do." Do not let others speak negativity on you. Your tongue is powerful. You have to speak positivity and prosperity over your life and endeavors. Now, when you speak it, be prepared to put in the work. There are going to be some really hard times, but there will also be times when it's really good. Then ultimately, enjoy the fruits of your labor.
I really enjoyed getting to know more about Sheria. It's always good to see young women making big moves!  If you would like to connect with Dr. Sheria through social media her handles are listed below:
Instagram: DrRia4 & DRoweEnterprise
Facebook: DrSheriaRowe & DRoweEnterprise
Twitter: DrRia4 & DRoweEnterprise