As any aspiring writer will tell you, trying to make a full time career out of writing seems almost next to impossible. My sister and I left our unfulfilling  careers over a year ago to pursue our love for writing and we have definitely encountered many obstacles on our path to success. We came across the profile of Ni'cola Mitchell, a published author of several best-selling novels, a blogger, and founder of the independent publishing company NCM Publishing.  Much of her work revolves around complex relationship issues and Mitchell's compulsive desire to see women overcome challenges.
I was able to get a brief interview with Ni'cola as she prepares to promote her latest novel "Pum Pum". In our interview she discusses her love for writing, shares how she overcame obstacles, and gives advice to aspiring writers.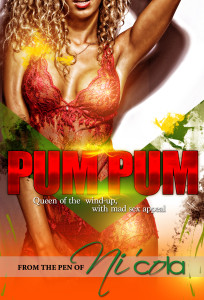 Check out our interview below:
Amy Nicole:  Did you always have a passion for writing and how long have you been writing professionally?
 Ni'cola: Why Yes!!! I have always had a passion for writing! Ever since I was little girl, I would write poems, stories, and my thoughts down on paper.  I never knew though that I would be able to make a living off of writing growing up. It was not until I was preparing for graduation for my Bachelor's degree, that I was dared to write my first novel and the rest was history.
Amy Nicole: The focus of most of your books is about relationships; why do you choose to focus on this particular topic?
 Ni'cola: I write about relationships because it is about everyday life.  Everyone can relate to the good and bad of relationships, and I use how I feel and people around me and create masterpieces.
Amy Nicole: What obstacles did you face as an aspiring writer and how did you overcome these obstacles?  Would you say your race/sex played a factor in any of these obstacles?
 Ni'cola: The obstacles that I faced when I started off was trying to get my books into new stores and getting the word out about me and my book. I mimicked how major publishers were doing their campaigns and recreated the same thing just with my twist. Race was not really a factor, but sex has been. When you are a woman and have a pretty face, it is a challenge for people to take you seriously in a man dominated field. You have to stand your ground and make it clear that you deserve to be here.
 Amy Nicole: My sister and I both quit our jobs over a year ago to pursue a writing career and we have definitely faced many challenges. What advice would you give women trying to pursue a writing career but facing obstacles along the road to success?
Ni'cola: The advice that I would give you both is to not give up. As long as you give the same tenacity to your craft as you would for a "day job," you will have tremendous results. Also remember an average overnight success is 10 years. Some have been blessed to become rich overnight but the money comes with your hard work.
Amy Nicole: You have several published novels, what would you say is your favorite novel and why?
Ni'cola: "Pum Pum" as of date is currently my favorite because it has so many different social issues inside of it.
Amy Nicole: You are currently promoting your new book called "Pum Pum". Can you tell us what this book is about and about the title choice?
 Ni'cola: My new book "Pum Pum" is a story about a girl that was framed for a drug charge and was deported back to Jamaica.  She meets someone that teaches her to become self-sufficient on the island and to become a dancehall queen. I chose the title because it is a world play of many situations that a lot of women face when their back is against the wall. You know the phrase, "you have to use what you got to get what you want"? Well, in "Pum Pum", instead of selling her body to survive, she is dancing.
Amy Nicole: Where can readers purchase your books?
 Ni'cola: Readers can purchase my books on Amazon.com, Barnes and Nobles, and Books a Million. You can also find me on Google Play, Nook, and I-Books.
 At a time when it seems that the doors for African American female authors seems slim, Ni'cola Mitchell is proof that with hard work and consistency female writers can have a successful career. It was great getting to know more about Ni'cola and we look forward to reading her novels. To find out more about Ni'cola you can visit her website at http://www.nicolacmitchell.com/.