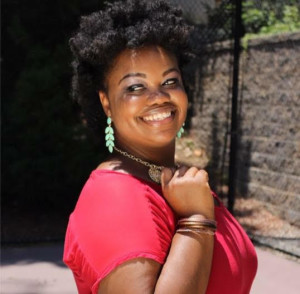 The chances of making a good living as a filmmaker or director are very slim since the entertainment industry is already over saturated with so many.  This can be very discouraging for aspiring screenwriters or directors struggling to make it in the industry.  My sister and I would eventually like to expand our writing careers to include film but we often times question whether or not we would be successful being that the industry is already overpopulated and because we don't have any prior film experience.  I recently came across a web documentary series called "The Indie Girls Project" which follows six female indie filmmakers in Atlanta, Georgia. After watching some of the documentary I discovered the profile of Qulanda Moore, a young writer, director and producer.
At only 28 years old Qulanda has quite an impressive resume.  She has directed a feature film, started her own media production company, produced a web series, and served as a technical director for a Broadway play in New York. This year she and two business partners launched the YouTube channel MOQtv, which is an online distribution network that features original content from independent Film/TV/Web producers.
Because of my interest in film I decided to reach out to Qulanda to get some advice about entering the film industry.  Check out her interview below.
Amy Nicole: What inspired you to pursue a career in film?
Qulanda: My love for reading started it all. Growing up, I ALWAYS had my nose in a book. I also always loved watching movies. So at some point I combined the two, and began writing poetry and short stories which soon grew into scriptwriting. There's something on the inside of me that genuinely loves being able to see words on paper come to life on the screen.
Amy Nicole:  You mentioned in your bio that after finishing school you had difficulty finding employment in the media/entertainment industry due to the competitiveness of the field.  What advice would you give to aspiring film makers/writers who are facing similar challenges?
 Qulanda:  I would say find a way to surround yourself around people who are doing what you want to be doing. If you are an aspiring filmmaker, connect with other filmmakers who are working on projects. Volunteer to do PA (production assistant) work. You have to start somewhere, and a lot of times in this industry, that means starting from the bottom. I would also say use any downtime you may have to do what you love. If you are a writer, then write! Nobody can stop you from doing that. Eventually, opportunities will come, which are typically based on linking up with the right person/people at the right time. You just have to make sure that you have already been busy and not just sitting around waiting for someone to give you a job.
Amy Nicole: You recently rebranded your production company ChelleStar Production to QRMedia Productions LLC which focuses more on creative media. What are some of the benefits to having your own production company and what are some of the challenges if any.
Qulanda:  Benefits would be having creative control of what you put out. There is a lot of content out there, and when you have your own production company, you ultimately have the say-so in what your brand produces. So if I want to tell certain stories, or inspire people, I can do that in my own way (which is always right! LOL) One of the main challenges is finance. When you do video SERVICE work, it's easier to get a steady paycheck in for your work. However, when creating original content for entertainment, it can sometimes be challenging to actually profit from that.
Amy Nicole:  Your web series "The Single Life" which is the first project under the new brand is very popular among fans. I recently watched the first season and I love the show! What inspired you to write the series?
 Qulanda:  Actually living the single life! One of the things that bothered me about a lot of shows and movies that claimed to "represent" what it was like to be a single woman, was that I couldn't really relate to them. As most women do, I often get together with girlfriends and we share dating (or lack of) stories among each other, and it's very entertaining! Our stories never really had the fairy tell ending, things didn't always work out, and the truth is dating is not always cut and dry. So I wanted to create a show that told the ugly truth that a lot of single women face in their mid to late 20s, in 2015. I also wanted to be very careful to make sure that it wasn't a man-bashing show. As women, we are often at fault for a lot of the negative things we experience in dating as well.
Amy Nicole: Do you have any upcoming projects?
Qulanda:  We've actually just wrapped Season 2 of "The Single Life" this past summer. Our editor is finishing up the post production work, so the new season is slated to be released early 2016. In addition to that, I am also featured on a pretty cool web series called "The Indie Girls Project" which is a reality/vlog style show that follows 6 of us female filmmakers as we go through our day to day, some of the obstacles we face, how we uplift each other, etc. Our youtube channel, MOQtv will also have some new shows that I've worked as a producer on coming out 2016 in addition to the 2nd season of The Single Life.
Amy Nicole: How can people contact you?
Qulanda:  I'm on Facebook under my name Qulanda Moore and on Instagram as @qstar7. They can also email me atqrmedia@icloud.com.
It was great getting to know more about Qulanda and I hope her success as a writer and filmmaker inspires others to keep pursuing their dreams!