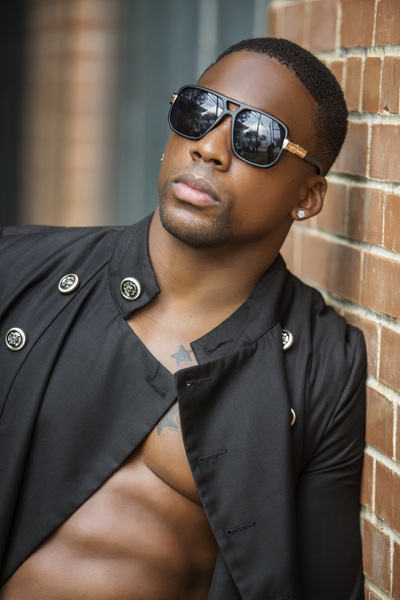 Author: The Double Scoop
Working as a police officer and personal trainer by day and an R&B singer by night, Ray-Vaughn proves he is a man that can juggle many hats.  The Mississippi native is breaking his way into the music industry and he is not letting anything stop him from sharing what he calls his "God given talent" with the world. Born into a family of singers and musicians Ray-Vaughn discovered his passion for singing at the ripe young age of 5. His talent allowed him to sing with several choirs over the years and even landed him a 4 year choir scholarship to Mississippi Valley State University. He recorded with the Mississippi Mass Choir as a child and in college he recorded the first album with the Mississippi Mass Adult Choir. Determined not to become content with mediocre success he moved to Dallas after college to join the police department and to explore more opportunities for his music career.
We were able to catch up with Ray-Vaughn to ask him a few questions about his life and blossoming career.
TDS: When did you decide to pursue singing professionally?
RV: During my 5th year with the department I was teaching a boot-camp fitness class and one of my clients asked "What would you be doing if you weren't an officer and a personal trainer?" My no hesitation response was "I would be performing!" That lit a fire inside of me. Upon exploring the opportunities further my client introduced me to my first producer. It took off from there.
TDS: The music industry is very competitive. What distinguishes you from other artists?
RV: I am real. My music portrays me exactly who I am. Hence the name of my debut album Experience RayVaughn. When I perform or sing I don't do it for the fame.  Instead, I do it to show the world that YOU can do ANYTHING that you desire. I do it to add to the validity of my story when I tell the youth to shoot for the moon. I follow my heart, beliefs, and love for the craft.
TDS:  You will soon be dropping your first album "Experience RayVaughn".  How long have you been working on this album and what should listeners expect?
RV: I worked on that project for a little under a year. My recordings were done in two months but I was extremely critical on myself and re-recorded everything over twice. Lol. My listeners should expect to hear and understand the sentiments of my heart in some tunes and life from my perspective in the others. Originality is my forte. I'm an emotional writer who has experienced my share of sunshine and more than my load of heartaches. My tunes are not only timeless but relatable.
TDS:  Many say there is not much quality R&B out today. What is your response to that statement and describe your style of R&B.
RV: R&B still lives! Many R&B artist change to keep up with the times. That was my biggest battle. Do I keep R&B rhythm and blues or do I forfeit my feelings to attract the new age listeners? To stay booming in business, you have to transcend to the auto-tune and other modern day cliché approaches to music. I chose to experiment with the some of the modern to stay relevant to society but I don't abandon my roots. I also like to put my own unique feels in each song.
TDS: You recently released a music video to your single "Smile" which featured your wife as the leading lady.  What was that experience like shooting the video and including your wife?
RV: Smile Forever was written to compete with the "Bad Bi###" mentality. I'm a country boy with the heart of a gentleman. I still believe in real love and think that class is the sexiest thing about a woman. Chivalry isn't dead….Women can still be catered to! Having the lead be my very own wife was interesting… Let's just say, I'm embarking into a new realm of my life. No matter what life deals you, stay true to who you are and don't allow pitfalls to hinder your progress. Instead use them as lessons and blessings or song lyrics lol!
Listening to Ray-Vaughn's music you can hear the diversity in his sound. There are elements of pop, a little country and of course some sultry R&B. Some have compared his sound to artists like Chris Brown, Trey Songz and Usher.  Ray-Vaughn definitely has a promising career and we wish him nothing but love and success on his dream chasing journey.
Check out more of his work here.
RayVaughn "Smile Forever"