Soooooooooooo Lifetime will be premiering a Michael Jackson biopic later this year…..I'm a huge Michael Jackson fan but I'm not really excited about this film.  With Lifetime's track record of unauthorized, lackluster biopics (cough…cough the Aaliyah biopic)….. I'm sure most MJ fans are also very skeptical about how this movie will turn out.
Here is what we know about the film so far.. It is titled "Searching for Neverland" and it will tell the story of Michael's final years from the perspective of his former bodyguards Bill Whitfield and Javon Beard.  The movie is based off the book "Remember The Time: Protecting Michael Jackson In His Final Days" which was written by the two bodyguards.
Searching For Neverland is being directed by Dianne Houston and was written by Elizabeth Hunter. Suzanne de Passe  who is a close friend and former business associate with the Jackson family will assist with the production of the film.
I'm just praying this film doesn't end up like the 2004 VH1 biopic "Man In The Mirror" which had actor Flex Alexander rocking white face LOL!   The British network Sky Arts also made an attempt at depicting MJ in an upcoming TV anthology series. The episode was recently canceled because of backlash over the casting of a White actor to portray Michael.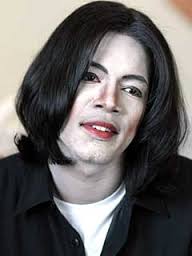 I'm waiting for the day when an amazing director and writer will tell the entire life story of Michael Jackson with dignity and respect. The only MJ movie that came close to this was the 1992 miniseries "The Jackson's An American Dream" which chronicled his life from birth until the late 80s. (That is one of my favorite biopics by the way)!
Although I'm skeptical about the upcoming film I think the casting is definitely on point!  Navi, who is known as the world's greatest Michael Jackson impersonator will be portraying MJ in the movie. Based on the trailer he was definitely the right pick for the job!
What do you guys think about the upcoming biopic?
Check out a behind the scenes clip of the movie below: