Photo Credit: CAPX
For most people the reality that Donald Trump will soon be our new commander-in-chief is slowly starting to sink in.  Seriously….. a man who has been blatantly disrespectful to women and who has made very ignorant and disrespectful comments about minorities, veterans and people with disabilities will soon become the next  president of our country!
I can't say I was thrilled about Hillary Clinton being the next president, but I definitely believe she was more qualified than Donald Trump. The fact that so many people felt that a man with no experience in politics is equipped to run a country completely baffles me.  I think it's crazy that out of all the candidates that could have ran for office he was considered the best option.
Protests have erupted all across the country by people opposed to Trump's election win. I definitely don't think he was the right choice for president but at this point what can we really do about it? The decision has been made.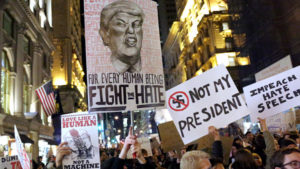 Although I was shocked by the election results, I really can't say that I was all that surprised by the outcome. To be real a lot of people (especially people of color) opted not to vote in this election because they didn't support either presidential candidate. I don't agree with that decision but to each his own.
We didn't just vote for the president in this election, we also voted for other important state leaders. I live in North Carolina and my ballot had over 30 candidates which included U.S. senate representatives, house representatives, governors, lieutenant governors, etc.  What people fail to realize is that the officials elected into the smaller offices have a big impact on a lot of the bills and laws that can be approved by the president.
I have male friends who have said that they don't believe President Obama did anything for the black community but I don't agree. A lot of the bills that President Obama tried to pass while he was in office were rejected by members of the opposite party who were elected as house representatives. So when people say their vote doesn't count, it actually does.I admit I haven't been that up on politics like I should be but for this election I took the time out to research different candidates and to learn more about their positions and job duties.
So now that the election is over and done with where do we go from here? A few days ago I was driving to work and I heard Al Sharpton say on the radio that we have survived a Bush presidency and a Lydon B. Johnson presidency, we can definitely handle a Trump presidency.  
I think Trump's election win was a wake-up call to a lot of people. We need to do a better job of educating ourselves on how politics and legislative can affect us. We also need to put our differences aside and unite as American  people.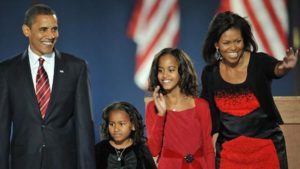 I will never forget the night President Obama was elected into office. Just to think at one point in time the life of a black person was equivalent to that of an animal. Fast forward to 2008 and I was able to witness the first black man get elected as president of the United States. It was such a historic moment in time that I will never forget! I'm definitely going to miss the Obamas being my first family; I don't think there will ever be another first family quite like them.  Although I may not have agreed with everything that President Obama did while he was in office I believe he had the best interest of the American people at heart. I really appreciate everything that he has done for our country.
Personally I will not  acknowledge Trump as my president and I'm going to continue to work my ass off so that I can become a self-sufficient entrepreneur. Let's not let fear invade our spirits as Trump prepares to take office. We need to stop giving so much power and responsibility to other people to make change happen for us. Get out and make stuff happen for yourself! The ball is in our court!
In the words of Kendrick Lamar "We gone be alright"!