As a blogger it is always nice to meet fellow writers  who are on the same path as myself. Most new bloggers face the challenges of creating a brand, building a following, and trying to earn a few coins on the side. At times blogging can become frustrating and even challenging when you aren't  seeing a financial gain or when your followers don't seem to be growing.
Blogger Elly J started her blog to create a platform for young aspiring entrepreneurs to share their dreams and success stories.  After blogging for a few years, her readers expanded and she made numerous connections with writers, directors and other successful entrepreneurs. Because of her perseverance she even got an opportunity to work on a film set.
Elly J is gearing up for the relaunch of her blog. We caught up with her for a brief interview to discuss her love for writing, the Elly J brand and future goals.
Check out the interview below:
Amy Nicole: What inspired you to start your blog?
Elly J: I always loved to write. When I created my blog "What's Up Elly J?" in 2011, I guess I wanted to find a way to keep myself creatively active with my writing and at the time blogs were becoming popular. I actually saw a friend of mine's blog she created and I loved it so I thought why not?
Amy Nicole: Tell us more about your brand and what sets you apart from other bloggers.
Elly J: It's funny because as I was working on my biography for my website, I didn't truly understand what my brand was. In the beginning, my brand was geared towards creating a platform for young adults where they could discuss their careers, their brands, their dreams etc. I would say that this is still true, but through my experience of blogging I met many older, career-driven people that were starting their own businesses.  I also gained a larger audience and I didn't want to make it where they couldn't relate to the stories that were shared on my site.
Now I would say that my brand is about creating a platform for all upcoming entrepreneurs and those that would like inspire anyone in the process of starting their own careers. I think that's what sets me apart from other bloggers. My blog was created to inspire not just young adults, but everyone.
Amy Nicole: What are the most rewarding aspects about blogging?
Elly J: I would say the most rewarding aspects for me has been able to meet the different people that have inspired me and supported my brand. "What's Up Elly J?" has definitely grown over the past five years and I'm so proud of the community that has grown with it.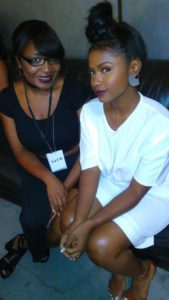 Amy Nicole: What has been your most memorable experience since starting your blog?
Elly J: About a year ago, I interviewed director, producer, and actor Jahmar Hill. He was looking for bloggers to promote his first movie, "Last Love Lost" and I reached out to him after a close friend of mine told me about it.  I think that was my most memorable experience because when I met him, I told him I wanted to work in film and I would love to assist him in anyway I can and he actually took me seriously lol. Since I met him I was able to work on set for his second film, "Fourth Quarter", which will be out soon and I got a chance to learn about the film industry. I would say this is my most memorable experience because I was able to work with someone who believes in my talent wholeheartedly and trusts me to do write ups about his movie and his brand. It taught me a lot about myself and made me want to take my career to next level.
Amy Nicole: What are the most challenging aspects about blogging?
Elly J: It is very time consuming. I believe that if there is anything you want to do you have to be willing to sacrifice and be consistent. I do wish that I had been a little more on top of prioritizing my time because writing is an art and has to be perfected. So you have to stay on top of perfecting your craft and making sure you are putting your all into it. That's definitely something I find is difficult and frustrating at times.
Amy Nicole: You conduct a lot of interviews for your blog. What story has inspired you the most?
Elly J: Oh wow, it's been so many different people who's stories have touched me and really motivated me. I would have to the interview I did with college professor and motivational speaker Lenny Williams probably touched me the most. His back story about being robbed at gunpoint, almost losing his life but the gun backfired and his life was spared was the most inspiring story I've heard. After that experience, he did a complete 360 and changed his for the better and now his traveling and speaking to different young adults. I'll always go back to interview and read it over and over again because to me it's a true testament of how God can work and use people in the most unexpected way.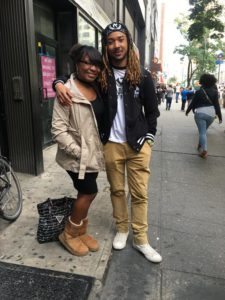 Amy Nicole: What are your long term goals for your writing career?
Elly J: In addition to relaunching my site, I will be releasing my first novel. I have been working on three different novels since 2012 and I never got around to finishing them. I'm really excited because when I write is when I feel I am able to really express myself. I would like to keep releasing books that will be adapted into television shows and movies!
Amy Nicole: You are in the process of relaunching your site. What are some of the new changes that readers can expect?
Elly J: With this new website, I didn't want to stop conducting interviews. Readers can definitely look forward to more articles about different people as well as more personal articles written by me. I really wanted to make this new site a reflection of who I am and what I like. Basically it will be an online magazine where you can get a little bit of everything, from fashion, to lifestyle tips, and more! My site will be up on October 17th and I'm very excited!
Amy Nicole: How can people reach you for business inquiries?
Elly J: I can be reached by email: bookwhatsupellyj@gmail.com for all business inquiries!
It was great getting to know more about Elly J and her brand! If you are an aspiring entrepreneur or a blogger just starting out, we hope her story has inspired you to continue your  journey to success! Visit her blog here.