When I first saw the preview for Greenleaf I wasn't sure what to expect but I was certainly intrigued by the storyline. A mega church in the south becomes disrupted by family scandal, secrets and lies. You hear about church scandals all the time so I was excited to see how a script would play out on television.  Religion is such a sensitive topic for most people so I think it's good to have a show that doesn't sugarcoat the topic.
The show centers around the Greenleaf family; a prestigious, wealthy, black family in Memphis Tennessee. Bishop James Greenleaf(Keith David) is the patriarch of the family and Lady Mae (Lynn Whitfield) is his devoted wife. They are the pastor and first lady of Calvary Church. The show also follows the lives of their three adult children: Jacob, Charity, and Grace. Oprah Winfrey has a recurring role on the show as Lady Mae's sister but they have an estranged relationship which can at times get volatile.
Each family member has their own unique story which unravels more secrets and scandals.
Just to give you an idea Charity discovers that her husband is struggling with his sexuality and Jacob is having an affair with an employee of the church. (Yasss honey it gets real LOL!)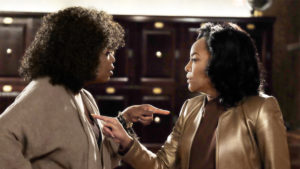 Grace is the central character in the show. She returns home to Memphis with her teenage daughter Sophia after being gone for over 20 years to attend the funeral of her sister Faith. After coming back home she makes the decision to stay and return to the ministry. Grace no longer considers herself a very religious person but she does have a relationship with God. I can relate a lot to Grace in this aspect because I don't consider myself to be religious anymore. I definitely have a strong relationship with God, but I don't feel like I need a title to define that relationship. As the show progresses you learn what turned Grace away from the church and her family.
I grew up in Mississippi which is a huge Bible belt state, and I think the depiction of the southern church and congregation is very accurate! From the women wearing the big church hats to the overzealous pastors it was very on point .
I think the biggest issue with the the church is the fixation with church leaders. Most people that attend church look up to church leaders as if they are  perfect when in fact they are far from it. They make mistakes just like everyone else which the show depicts. The biggest scandal on the show this season is when the family discovers that Lady Mae's brother, Mac McCready had been sexually assaulting young girls in the church for years including Bishop Greenleaf and Lady Mae's deceased daughter Faith.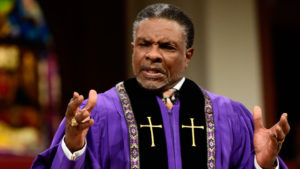 The season concludes with Mac arriving at the Greenleaf mansion escorted by police officers. Mac kisses Lady Mae on the cheek before entering the house to confront the bishop which in my opinion signified an act of betrayal like when Judas kissed Jesus on the cheek before he betrayed him in the Bible.
Some people might get offended by the series and say that it is disrespectful to the Christian religion but I would definitely disagree. The show is real and it highlights relatable issues.  Growing up I was taught to just pray about my problems and everything would be okay but as I became an adult I realized that life was not that simple.  Greenleaf exposes the reality of the church. Going to church doesn't erase your problems and it doesn't make you any better than anyone else. The show focuses on flawed human beings who are all trying to figure out and navigate through life the best way they can by having faith.
I really enjoyed Greenleaf and I'm very excited to see what type of drama season two will bring!
Photo Credit: Variety
Photo Credit: GreenLeafOwnTV