Photo Credits: Strong and Elite; Digital Trends
I've been a fan of Issa Rae since I watched her web series Awkward Black Girl a few years back and it's amazing to see how much her career has grown in such a short period of time. Since the success of Awkward Black Girl she has gone on to produce and write several more web series', has written a book, and has recently partnered with HBO to produce a comedy series.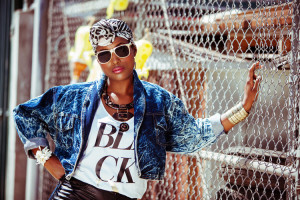 Issa's newest project is a narrative podcast called "Fruit".  The audio drama focuses on the life of a gay NFL player who tries to keep his sexual orientation private.  During the podcast listeners will hear the story of a football player who is only indentified as X. Throughout each episode X will discuss his journey of self-discovery and sexual exploration.  The show will also follow the relationships that X has with his family, friends, and teammates and will reveal how those relationships affect his self-identity.
I've recently started listening to the podcast and it is definitely an interesting show!  Issa Rae's approach to telling a story in the form of a podcast is very unique and creative!  Fruit is available exclusively on the Howl premium service, available through a mobile app for iOS and Android and online at howl.fm.  You can also listen to the show on Issa Rae's YouTube Channel.