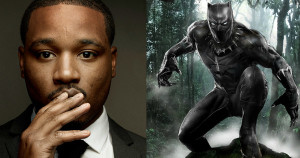 Ryan Coogler has officially been confirmed as the director for Marvel's Black Panther! Although Coogler is still fairly new to directing he has two dynamic feature films behind his belt. He directed the 2013 award winning film Fruitvale Station, based on the true story of Oscar Grant, and most recently the movie Creed which is a spinoff from the Rocky franchise.
The Black Panther movie will be historic for Marvel because the character is the first black superhero in mainstream American comics.  According to Marvel Studios, viewers can expect an African ambiance which will give fans an inside look into the nation of Wakanda, the fictional African nation that Black Panther rules over. Actor Chadwick Boseman is currently cast to play the lead role of Black Panther.
Due to the cultural background of the film Marvel felt it was important to give the movie authenticity by seeking out a black director.  Because Coogler is young and a diverse filmmaker he will definitely bring a unique spin to the film.
Black Panther is set to hit theaters in 2018!
Source:  INQUISITR
Photo Credit: MovieWeb