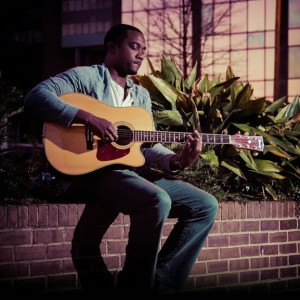 Author: The Double Scoop
Rising artist Kelvin Armstrong is a singer/songwriter and guitarist from the small town of Irmo, South Carolina. Armstrong is really starting to make a name for himself in Columbia, South Carolina and surrounding areas; he released his EP "In Due Time" last month and recently charted #67 out of the top 100 on Itunes. We were able to catch up with him for a brief interview before he geared up for his album release party on August 23rd.
TDS: Was singing something that you always wanted to pursue growing up and how long have u been singing professionally?
KA: Being a singer was never in the picture for me growing up. I did sing in the church choir, that's because my mom made me. I've been singing professionally roughly 2 1/2 years.
TDS: Who are your biggest music influences?
KA: My grandfather HT Armstrong R.I.P, my father Kent Armstrong and my sister Kyshona Armstrong . I've always had music around me.
TDS: While listening to your EP "In Due Time" we heard different genres of music such as soul, blues, a little country and acoustic R&B. Describe your sound of music and how does your music differ from other artists?
KA: It's just as you described it. I can only explain it as a melting pot. I've always listened to all genres of music: gospel, alternative, R&B, country and also jazz. I guess that's why when I write, it's never coming from one style. Honestly I can only speak on myself and where my music is pulled from. I write from a place of truth and real life. When you listen to my music understand that you're hearing my feelings and experiences.
TDS: We enjoyed listening to the EP and felt like every song told a different story. There was one song in particular called Falling that we really liked but had different interpretations of the meaning. I believed that the song spoke on finding who you are as a person where as Ashley believed the song was about the ups and downs of life. Can you tell us about the meaning behind this song?
KA: I'm glad you enjoyed it! You're both right. That song was written in a time where my life was completely out of whack. I was in a deep depression and was really trying to fight my way out of it. Me writing the song was my therapy. I pray that the song does for someone else what it did for me. It gave me a release from all the pressure and weight I felt was on me.
TDS: Another song that resonated with us was Stones Throw as it spoke on struggles in life. What was the inspiration behind this song?
KA: Stones Throw came from the a question I asked myself: "With all the craziness in the world, senseless killings, unexplained deaths and the everyday struggle people may have with drug addiction ,when they pass on do those loved ones left behind understand that through it all, the good and the bad…. God was with them?
TDS: How far do you want to take your career?
KA: I'm setting absolutely no limits on how far my music career can go. Four years ago being a singer/songwriter was not even a thought. I feel like my purpose is to work as hard as possible to be heard. I hope my music can help someone, even heal someone's pain or struggle they may be experiencing. It worked for me I know it can help others.
TDS: Do you have any upcoming projects and where can people buy your music and get in contact with you?
KA: I do. I'm having my album release show on August 23rd at Wet Willies in Columbia SC. I can't wait, it's really going to be fun. Hope to see some faces I haven't seen in a long time. You can buy my music on ITunes, google play and spotify. You can contact me via IG & Twitter @kelvin6string and you can visit my websites http://www.kelvinarmstrongmusic.com/ http://www.facebook.com/kelvinarmstrongmusic