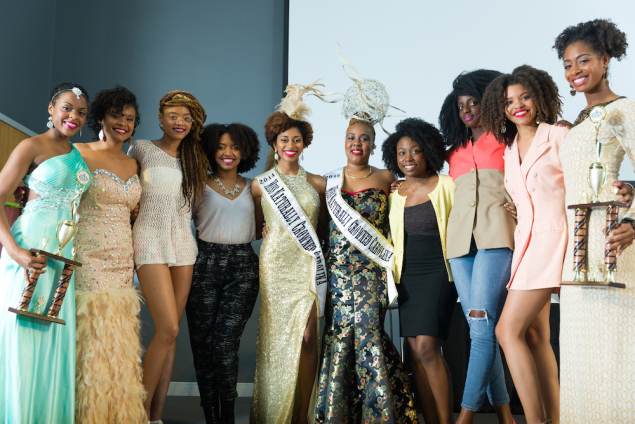 Author: Amy Nicole
Needless to say the natural hair movement is showing no signs of slowing down as women of color all over the globe are embracing their natural hair textures.  Many naturals can attest that going natural can be an intimidating process so it is always nice to have a support system to get you through the journey. My sister and I are newly natural and we couldn't agree more!
We were excited to find out about the Miss Naturally Crowned Carolina pageant which is held in Columbia, South Carolina. The pageant was founded by Jessica Boyd and Maureen Ochola who are the owners of Quench Natural Beauty Boutique based out of Columbia. This year marked the second year for the pageant and we were excited to be in attendance for the big event.The pageant was open to women statewide ages 19-30 who wore their naturally textured hair, and as part of the pageant guidelines contestants were required to submit a business pitch with a completed business plan. The winner of the pageant was awarded $1,000 in startup funding as well as marketing and branding services.
We caught up with last year's winner Chanelle Johnson for a brief interview as she prepared to say farewell to the crown.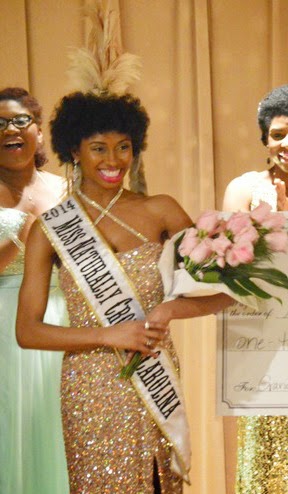 Last year you won the title of Miss Naturally Crowned. Describe that experience.
Preparing for the pageant really forces you to take a closer look at your strengths and weaknesses. I used it as an opportunity to refine my weaknesses, and to grow. Lolita Frazier, our pageant coach, was a huge component of helping each of us grow in the way that we desired to. One of my greatest take always from this experience has been understanding  that your confidence is everything! Even if you are afraid, keep going. Never let fear immobilize you. Everything that you need is already inside of you, and my personal philosophy throughout life and the pageant comes from 2 Timothy 1:7 which states,  "For God has not given us a spirit of fear and timidity, but of power, love, and self-discipline." Whenever I got nervous or thought that I was not good enough, I reminded myself of this scripture and that I am validated through Christ. I'm definitely not saying that I wake up feeling like superwoman everyday, but knowing what I have inside is enough to remind me to lift my head, fluff my fro, and adjust my crown.  It still amazes me that because I decided to embrace my natural hair texture almost 6 years ago, I have been able to encourage women and girls to love themselves the way that they were made, simply by being me, the title was the icing on the cake to help me do so.
What made you want to be a part of the pageant and why did you decide to go natural?
I've always loved pageants! I used to watch them with my grandma when I was little girl. I loved the glamour, the poise, confidence, and grace of the women. I always thought that someday I would compete, but my family was not the "toddlers in tiaras" type, and honestly, we couldn't afford the fees and expenses that come along with pageant competition. Therefore, I waited until I was in high school to enter my first pageant! I competed all 4 years, and actually earned the title of Miss Sophomore! I competed in 2 pageants during college; I had relaxed hair in both of these. Shortly after I transitioned back to my natural hair. I never thought that I could compete again. Most pageant contestants are notorious for having long, flowing, tresses, and I did not feel comfortable getting extensions just to compete.
I was intrigued from the moment found out about the pageant through the fabulous marketing campaign of @QuenchSC on Instagram and I was immediately hooked! Their values were so in line with my own that I was motivated, inspired, AND challenged! The manner in which the innovative and creative co founders Jessica and Maureen carried themselves and their brand,  was just the fresh breath of "get up and get started" that I needed! This was before I had ever shaken either of their hands, and even after meeting them I have been continuously inspired! A pageant for women with natural hair AND a chance to earn some funds for my dream job?! Sign me up NOW! Entering the pageant was not a question!
As a winner of the pageant you were awarded start-up funding for your business. What type of business did you start and why did you choose that particular business?
The guidance and encouragement I received during the time that we prepared for the pageant was really what helped me to start my business. The start-up funding was the icing on the cake! Whenever I have been asked what is my ultimate dream job, I've always hesitantly said to become a photographer and to eventually travel the world capturing all things beautiful. However, this never occurred to me as something feasible. Photography has been a love of mine for as long as I can remember, but I boxed it into a pretty little "dream job box" and tied a bow. However, God is an amazing orchestrator! I found out about the pageant around the same time that I had decided to purchase my first professional camera and had begun learning the art photography. However, I still could not see it, my own a photography company?! The pageant required a business plan which my bestie, Candance played a huge role in helping me to design. This was the beginning of untying the bow and removing photography from the box. Although, I still have much to accomplish I am the proud creator of C. Heart Photography, LLC.
It was really nice meeting Chanelle as well as the founders of the pageant and we would like to wish this year's winner Tra'Shon Howard much success during her reign as Miss Naturally Crowned Carolina. We think the pageant is an amazing idea as it promotes young women embracing their natural beauty and we are looking forward to seeing the continued growth of this event.
Check out footage from the pageant at Double Scoop TV.