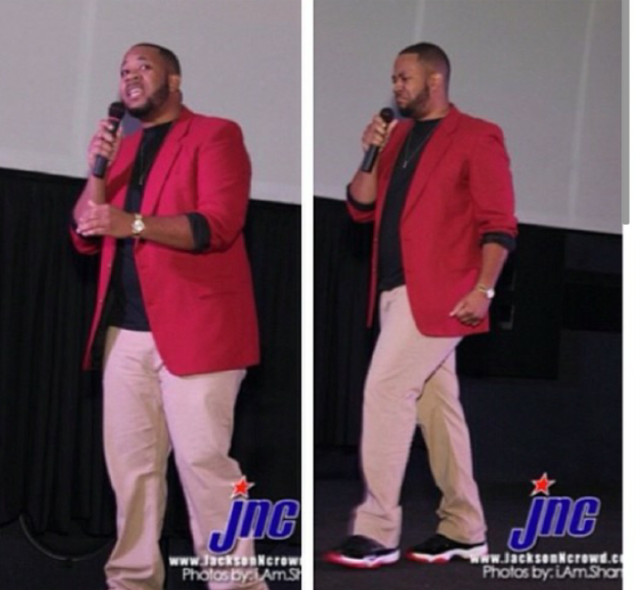 Author: Ashley E.
When you decide to pursue your passion or dream, it can cause you to make some serious sacrifices. You might risk losing relationships, stability, income, and even peace of mind. Jay Smith is an upcoming comedian and actor who decided a few years ago he wanted to pursue his passion. He got his start in the industry as a student at Jackson State University when he joined the MADDRAMA Performance Troupe. Over the years he has made a name for himself in his hometown and has also built a pretty large social media following. You can even catch a glimpse of him in the latest James Brown biopic Get on Up.
The Mississippi native recently moved to Atlanta, Georgia to broaden his career, but his journey to chase what he loves has been met with some highs and lows. I caught up with Jay recently to ask him a few questions about his dream chasing journey.
AE: When did you realize you were interested in comedy and acting?
JS: I always liked pretending as a child, making up little stories in my head and acting them out.  I played Joseph (Jesus' father) in a Christmas play when I was five haha..I guess it's been a while.
AE: Does anyone in your family have a background in either of the two?
JS: My dad and his whole side of the family are funny.  My dad has a dry wit/ asshole-ish in a nice way personality.  I definitely inherited that personality.  I have a cousin who does standup.  As far as performing period goes, my dad was in a funk band in the 70's and 80's called Freedom so performing is in my blood.
AE: Do you think people underestimate how difficult stand-up comedy can be? I remember seeing you for the first time probably about a year ago at a show and thinking I would be so nervous. You have to stand in front of a room of people and demand their attention. I'm sure a 10 minute show could feel like an hour when all eyes are on you especially if the crowd isn't feeling you.
JS: DEFINITELY….comedy is so hard, so hard that I don't even tell people I'm a comedian…I say "I do comedy" lol.  When a show is going well every second feels better than sex.  Well not better than, but AS good as some good sex…and that's really all you can ask for. When it's going bad, the worst part is that you already know it's going bad.  It usually doesn't get better when it's bad, and that's the worst part…knowing that it might get worse.
AE: What has been your worst show so far?  I'm pretty sure you feed off of the crowd's energy so I can imagine if the energy from the crowd is low than your performance isn't the best.
JS: YEP…I was doing a contest to perform for Katt Williams when he came to Jackson.  My material was geared toward people around 25 -40 years old.  Everybody in there was way older than that and I wasn't comfortable enough with my act to deviate from it.  They didn't know nothing about the stuff I was talking about.  My neck was burning and voice was shaking.  It was like being in a burning house. I just cut it short and said "that's my time."
AE: Are there any comedians in particular that influence you?
JS: Yes. Eddie Murphy, Chris Rock,  Louis CK, George Carlin, Paul Mooney…man Paul Mooney is that guy. I listened to Paul Mooney going to sleep every night for like a year and some change.
AE: Explain T.R.U.S.T and F.I.N.E. You use those 2 words a lot in your videos.
JS: So, TRUST is something that came from a crazy teacher at JSU I had.  He stuttered severely and had a very smart mouth.  After he made a point he would say "TRUST".  It turned into a hashtag on twitter, lol. Me and my classmates all followed each other and made fun of him on twitter and always ended the tweets with #TRUST. It then turned into something deeper after a few life experiences along with people outside of our class wondering what TRUST meant.  TRUST then went on to mean having peace and TRUSTing the process of getting down whatever road you're traveling in life.  TRUSTing your intuition, TRUSTing the struggle.
F.I.N.E. is something that started with me and my friends at Hinds Community College in Raymond back in 2005.  Basically a daily mantra to live by in acronym form.  (Focused Intelligent Negro Excelling).
AE: I watched your most recent you-tube video and I see that this past year was pretty challenging for you. You ran into a lot of obstacles: being broke, not having a job, having to move back in with your parents, a failed relationship, being arrested and moving to a new state are major life events. Do you ever feel discouraged about following your dreams and question if what you're sacrificing is worth it?
JS: Honestly yes, I don't know if that's something that's going away anytime soon.  I have a feeling I'll be by myself because my dreams aren't the most secure career path to go about.  Chicks don't really line up for unpredictable situations. Sometimes I wish I'd be happy living a "regular" life but I know I wouldn't be right now, at this point. I just try to look around and remember how unhappy other people are with everything that society says you should have and it reminds me I'm making the right choice.  I pray. I know my personal relationship with God and I feel like I wouldn't have the urge, gift, or opportunities to do this if it wasn't meant to happen.
AE:  How far do you want to take your comedy and acting career?
JS: I just want to reach my full potential.  The goal isn't to be rich or famous.  The goal is to make a living doing what I love to do.
AE: Being that so many people are in those fields of work, do you find it difficult to find a place in the industry?
JS: I think if you truly are yourself and no one else then there can't be another you. Thinking like that, I don't really think about trying to find a place.
If you want to know more about Jay and his work check out his sites below.